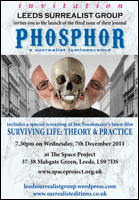 Leeds Surrealist Group invites you to the launch of the third issue of Phosphor including a special screening of Jan Svankmajer's latest film, Surviving Life: Theory & Practice.
When:
Wednesday, 7th December 2011
Where:
The Space Project
37-38 Mabgate Green
Leeds LS9 7DS
www.spaceproject.org.uk
Please keep checking this page for latest events and readings. If you would like to be kept-up-to-date regularly, please email us with your details surrealisteditions@surrealism.madasafish.com.