After a long incubation, Surrealist Editions was launched in 2007 by members of Leeds Surrealist Group as a vehicle for publishing books that provide evidence of a continuing activity and enduring sensibility. We hope to demonstrate that, contemporary and original, Surrealism's creativity is not defined by any particular aesthetic 'style', but by the integrity of its quest for poetic thought and action.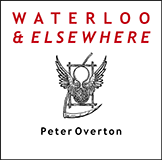 Peter Overton
Waterloo & Elsewhere
A collection of photographs with accompanying captions that build into a verbal-visual poem. With 34 full-colour and 2 black-and-white plates printed on Chorus Lux Silk paper, and an introduction by Krzysztof Fijalkowski.
Peter Overton's images of abandoned objects belong in a tradition of the documentation of detritus and material affray running from Atget's pictures of early twentieth-century rag pickers in the zone on the outskirts of Paris, through the work of Czech photographers such as Emila Medková and Alois Nožicka exploring waste grounds and marginal sites. - from the introduction, Down Is Up, by Krzysztof Fijalkowski.
In a limited edition of 100 numbered copies only.
42 pages - 17cm x 17cm square format - November 2015 - ISBN 978-1-906238-03-2
Please choose correct price from the drop-down menu:
UK £8.00
Europe £10.50
USA & Rest of the World £11.00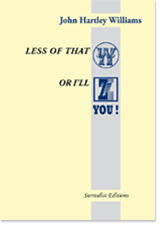 John Hartley Williams
Less of That W or I'll Z You!
A collection of ten new poems that draw upon Surrealism's unquenchable spirit for playing with language, including translations of poems by Benjamin Péret and Jacques Prévert, with a frontispiece by Kathleen Fox.
John Hartley Williams began writing poetry at the age of eleven, science-fiction poems and short stories, and was described by a schoolmaster as having 'an unfortunate tendency towards Surrealism' - although having no idea at that time as to what Surrealism was. He has since published highly-acclaimed poetry collections, including more recently The Ship (Salt 2007) and Café des Artistes (Cape 2009), as well as a 'surrealist film-noir' crime novel, Mystery In Spiderville (Cape 2002).
24 pages - A5 format - July 2011 - ISBN 978-1-906238-02-5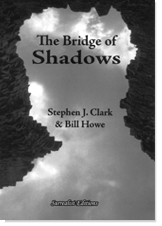 Stephen J. Clark & Bill Howe
The Bridge of Shadows
This first collection of poems by Stephen J. Clark with parallel photographs by Bill Howe arose from a project worked on over several years by the authors, to explore the creative interplay of photographic and verbal images. The photographs are not in any way illustrative of the poems, nor were the poems written in response to the photographic images, both having been created entirely separately, with differing motives. The combination of these poetic artefacts constituted a game of revelation. Through this associative 'sifting' of evidence, subtle relationships were revealed and developed between the photographs and poems. Not only standing as an example of the intimacy of collective surrealist activity, the book also becomes an open invitation to its readers to roam in its haunted confines, to play their own revelatory games.
In a limited edition of 350 numbered copies.
48 pages - A5 format - October 2007 - ISBN 978-906238-01-8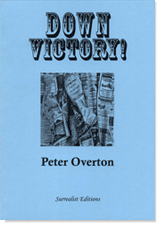 Peter Overton
Down Victory!
Down Victory! presents a series of fourteen photographs, together with accompanying texts, of an abandoned, 'worthless' place that was investigated by Peter Overton, as the preliminary to a collective game, Explorations of Absence, played by Leeds Surrealist Group over 2000-2001.
'What the subtle interplay of these photographs and texts conveys is the surreality that is latent within the real, the process of subjective revelation; as well as inviting us to make our own explorations and to look at the world in an entirely different way. There have been many books about surrealism published in this country, but very few books that are in themselves surrealist. This is the first in a very long time.' - from the Introduction.
In a limited edition of 350 numbered copies.
34 pages - A5 format - July 2007 - ISBN 978-906238-00-1