Surrealism is the desperate attempt of poetry to incarnate itself in history - Octavio Paz.
There have been and continue to be many books written 'about' Surrealism, usually in the past tense, but what we are striving for is to produce publications that are in themselves surrealist, whether through the written word, the visual image or their combination.
Surrealist Editions exists very much in the present tense.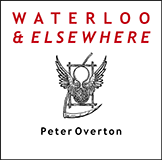 Peter Overton
Waterloo & Elsewhere
A collection of photographs with accompanying captions that build into a verbal-visual poem. With 34 full-colour and 2 black-and-white plates printed on Chorus Lux Silk paper, and an introduction by Krzysztof Fijalkowski. More...
Please choose correct price from the drop-down menu:
UK £8.00
Europe £10.50
USA & Rest of the World £11.00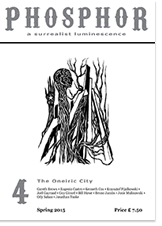 Phosphor No.4 - The Oneiric City
Spring 2015
Texts, poems, images on the theme of 'The Oneiric City' - including texts on dreams and cities by Bruno Jacobs, Guy Girard, Krzysztof Fijalkowski, Bill Howe, Josie Malinowski, Gareth Brown, Ody Saban and stories by Jonathan Tooke, Joël Gayraud. More...